2017 Sunbelt Builders Show Wrap-Up
August 8, 2017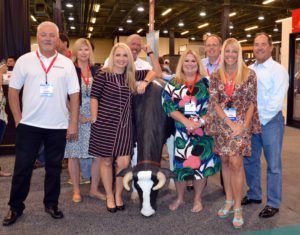 StrucSure Home Warranty was proud to be a presenting sponsor of the 2017 Sunbelt Builders Show, held August 2-3 at the Hilton Anatole Dallas.
Our thanks to all who stopped by to visit us at the StrucSure Home Warranty booth.  This year's show was a huge success and we couldn't have done it without your support and participation.
From the opening session led by Dallas Cowboys all-time leading tackler, Darren Woodson, to the closing of the energized trade show floor, the 2017 Sunbelt Builders Show was busy, productive and engaging. StrucSure Home Warranty was proud to be a Presenting Sponsor and one of more than 200 exhibitors who welcomed hundreds of Texas builders, remodelers, and developers to Dallas.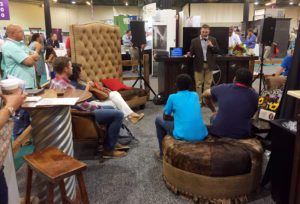 One of the many highlights of the show was the in-booth education event presented by Don Shelton of Bush Rudnicki Shelton.  
Don Shelton of Bush Rudnicki Shelton gave an informative presentation during our in-booth education event. His talk on the new TAB contract package and the Residential Construction Liability Act (RCLA) was full of valuable insight and information for builders looking to manage their risk.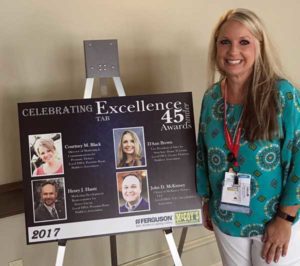 StrucSure's D'Ann Brown was recognized for her contributions to the Texas building industry with a TAB Excellence Under 45 Award.
The TAB Excellence under 45 Awards Program is dedicated to highlighting and rewarding young professionals who have committed their time, efforts, and careers to the Texas building industry.  The program is designed to acknowledge their hard work and successes, reward their performance and dedication, and showcase them as future leaders of the industry across our state.
And a big congratulations to the winners of our Yeti Cooler and Tumbler giveaways!
Congratulations to Lisa Dritschler of McClintock Homes and Wayne Moravits of Monticello Homes, Winners of the Yeti coolers. Other winners included Randy West of Texas Anderson Homes and Chris Lyons of HOME by Lyons who went home with Yeti tumblers.
We enjoyed seeing and visiting with many of our homebuilder clients. Thanks to all who stopped by our booth to chat!  
We are so proud to be the risk management partner of the nation's best builders in Texas and across America!  StrucSure Home Warranty helps builders sell more home, manage their risk, and avoid the courthouse.  If you aren't currently a member but are looking at risk management solutions for your business, we appreciate your consideration of StrucSure Home Warranty as your strategic partner in asset protection and liability reduction. Just like any risk management product, the hope is that you'll never need it, but when a problem emerges, you'll be glad you're covered by one of the industry's leading warranty providers.
We thank all of our builders who make the American dream a reality and
support the homebuilding industry!