StrucSure Logos Download Page
This page contains logo files (print and web) for StrucSure Home Warranty.  These items are solely for use by our members and approved strategic partners.
The Logo Usage Guidelines are provided to assure the proper and consistent use of logos provided on this page. Organizations and individual users must follow the guidelines set forth when using them.
If you download any materials from this site, you agree to be bound by these terms as well as the specific guidelines related to the materials you wish to download. Violation of the following rules governing member use of the StrucSure Home Warranty (StrucSure) logos may result in disciplinary action, including termination of membership or partnership and civil suit for violation of copyright material. If usage guidelines are not followed, StrucSure reserves the right to withdraw any right to the use of its logos. All uses of the StrucSure Home Warranty Logos are subject to existing copyright, trademark, service mark and/or other applicable laws. Any action not in accordance with these guidelines is expressly prohibited.
StrucSure's logos remains the property of StrucSure Home Warranty, and only StrucSure is entitled to authorize the use of these logos by others. The logos are reserved for your exclusive use. You may not accept any remuneration from a third party for the use of these logos, regardless of the intended purpose.
The logos may not be altered in any manner, including proportions, colors, elements, etc., or animated, morphed, or otherwise distorted in perspective or dimensional appearance. The logos must be used as stand-alone graphical elements (i.e. the logos will not be part of or be combined with any other design element or logo). Lines or rules must not intersect the logo so as to appear to be part of the logo itself. A minimal amount of space must surround any logo, separating it from other elements such as text, to ensure that the other elements do not appear to be part of the logo.
You may not use the logos in any manner that is derogatory to StrucSure's products or services. Your use may not be obscene or pornographic, and may not be disparaging, defamatory, or libelous to StrucSure, any of its products, members, or any other person or entity. You may not link to StrucSure from a Web site that is obscene or pornographic, or disparaging, defamatory, or libelous to StrucSure, any of its members, or any of its products or services.
The logos when used in any type of electronic media (i.e. Web sites, banner ads, etc.) must link back to www.strucsure.com.
You acknowledge that any rights granted to you constitute a license and not a transfer of title. You do not obtain any ownership right, title, or other interest in StrucSure copyrighted materials or trademarks by downloading, copying, or otherwise using these materials.
StrucSure shall not be liable to you or any other party for any loss of revenue or profit or for indirect, incidental, special, consequential, or other similar damages, whether based on tort (including, without limitation, negligence or strict liability), contract, or other legal or equitable grounds even if StrucSure has been advised or had reason to know of the possibility of such damages.
Pre-authorization for any communication piece using one of StrucSure's logos may be obtained by contacting Adria Ellerbrock, Vice President of Marketing, at 303.525.0400 or aellerbrock@strucsure.com (please allow two business days for approval).
StrucSure reserves the right in its sole discretion to terminate or modify your permission to display the logos at any time. If your use meets the above criteria, no further written permission is required and you may download the images below for use in accordance with the guidelines above.
To download any of the logo files, please right-click on the link and select "Save Target As" or "Save File As" and save the file to your hard drive.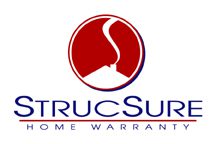 StrucSure Home Warranty – Print Logo
(Logo files must be linked to location on new server)

StrucSure Home Warranty – Web / Online Logo
(Logo files must be linked to location on new server)