StrucSure Risk Management Group
StrucSure Risk Management Group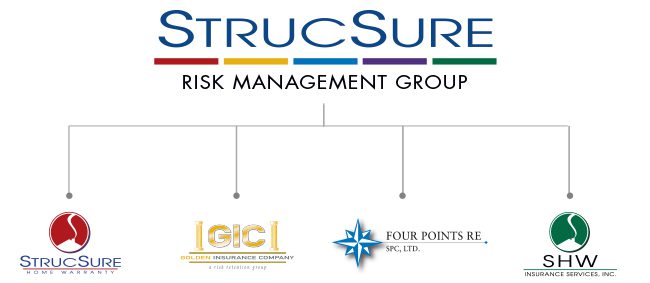 StrucSure Risk Management Group combines the resources and expertise of four companies which make up the StrucSure Family of Companies: StrucSure Home Warranty, LLC; SHW Insurance Services, Inc.; Golden Insurance Company, RRG; and Four Points Re SPC, Ltd. Together, these companies offer sophisticated financial and risk management solutions including home warranty programs, competitive insurance programs, insurance backing, and reinsurance and alternative financing vehicles.
At StrucSure Risk Management Group, our mission is to help our clients make solid business decisions about their risk management practices. From specific warranty and insurance products to professional consulting services to comprehensive risk management solutions, we approach our business relationships as strategic partnerships with the common goal of protecting the assets and reducing the liabilities of our clients.
Please click on the links below to learn more about these companies or contact us for further information.