StrucSure Home Warranty Celebrates 20 Years Serving America's Builders and Homebuyers
August 21, 2017
StrucSure Home Warranty is excited to celebrate its 20th anniversary this year!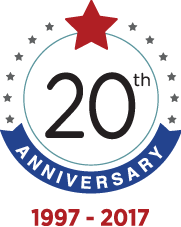 Jerry Thompson, StrucSure's founder and CEO, started in the warranty industry back in 1985 but ultimately saw the need for a program that was different from the rest … one that would provide outstanding customer service and be completely responsive to client and homeowner needs while providing excellent coverage at a reasonable fee.  As a result, StrucSure Home Warranty was founded in Denver, Colorado in 1997.   
When Jerry started the company two decades ago, he not only focused on the goal of being one of the top warranty companies in the nation, but also on building a company where he would want to work because of a great culture, competitive benefits, a fun and talented team, and more.  He has made true on that vision by recruiting talented staff that are dedicated, ethical, loyal, and proud to work for StrucSure and serve its members.  A testament to this commitment is that a number of employees have worked for Jerry since the company's inception and others have over 10 years of service.
Jerry's initial business plan centered on slow, controlled growth that would result in future success.  And that strategy has paid off.  In the last 10 years, the company has tripled its number of builder members and in the last five years, it has nearly doubled its enrollment revenue.  Members range from small builders to custom builders to large production builders, and no builder is too big or too small for their risk management portfolio of products and services.  "We are so honored to be the risk management partner for so many accomplished builders across America," commented Jerry.  "We look forward to serving those builders and achieving continued growth that is a result of solid strategic planning with a customer-centric mindset," he said.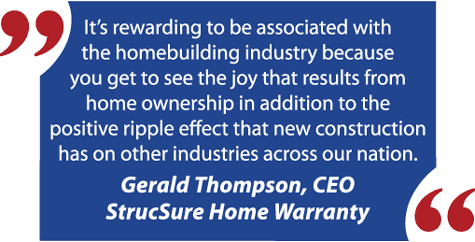 In addition to recruiting top executive, administrative, and sales talent, StrucSure credits its success to continually improving processes and technologies in order to deliver a simple, flexible, and customer-focused experience for their clients. StrucSure has also focused on their own risk management strategies, including securing Lloyd's of London for their reinsurance backing in 2014.  StrucSure's additional reinsurance backing by Lloyd's gives confidence and peace of mind to their members that if a high number of claims or a major loss were to occur, they would still be able to meet their warranty and financial obligations.  
"It's rewarding to be associated with the homebuilding industry because you get to see the joy that results from home ownership in addition to the positive ripple effect that new construction has on other industries across our nation," commented Jerry.  "Homebuilding is a huge part of the American economy and we're honored to be a part of it." 
As it celebrates this exciting milestone, StrucSure thanks its builders, contractors, industry partners, and colleagues for their trust, loyalty, and support and values the opportunity to provide the nation's best builders with the best risk management products and services available.  "Since our company's inception, we've been rooted on the philosophy of service, coverage, flexibility, and responsiveness and look forward to continuing to deliver on these promises while helping homeowners achieve the American Dream." said Jerry.